Ribbon Cutting at The Main Course
---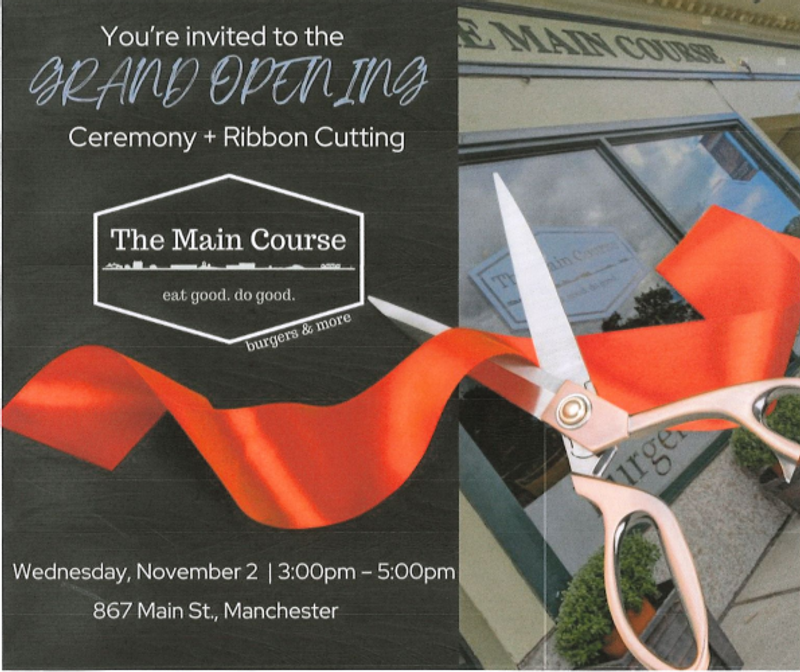 Join us in celebrating our newest downtown restaurant! The Main Course will be holding a ribbon cutting on Wednesday, November 3rd, from 3pm to 5pm.
Just what is The Main Course? From their website:
Eat Good. Do Good.
This was the mission statement created by MACC Charities when they launched their social enterprise, Bistro on Main, our predecessor. They set out to support, train, and provide opportunities for individuals with barriers to stable employment. By offering a jobs training program that would help them develop employable skills. What does this mean to us? While we are not the same organization, we have set out to continue the mission of doing good within our community while also offering an enjoyable dining experience.
Our community has been an important aspect of our success. It was your overwhelming support that helped us thrive during the hardest times that our industry had to endure. And as such we felt that it was time for us to do our part, as a way of paying it forward and saying Thank YOU!
Our goal is to continue to collaborate with those organizations who provide support for individuals in our community with the most need, such as MACC Community Kitchen or similar educational programs. Both on a permanent basis through specific menu items or on a rolling basis. So, ask us what organization we are supporting during your visit!
As always, we will strive to be the place where anyone can pull up a chair and feel like family. So know, that while you are enjoying your dining experience, you are also supporting a good cause!