November First Five to fund Holiday on Main!
---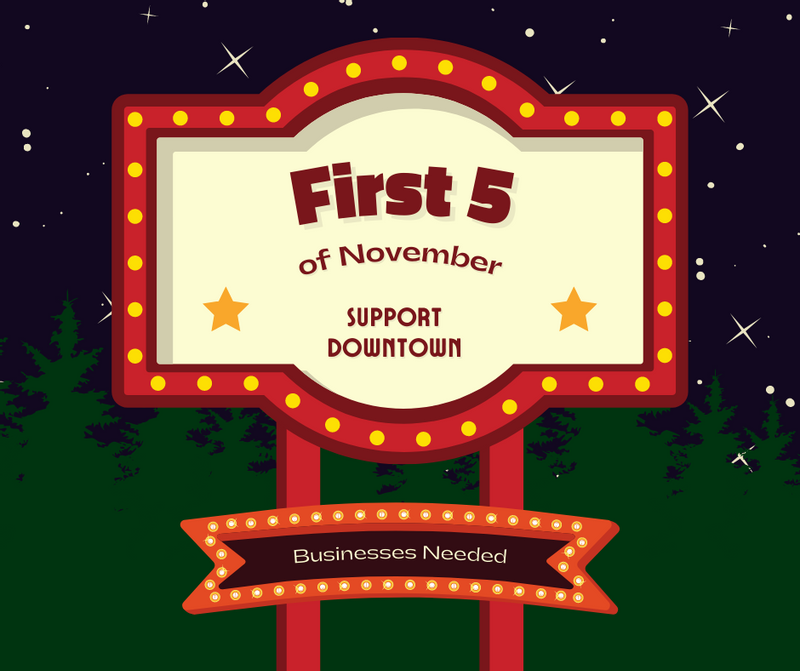 Let's work together to build excitement for Holiday on Main, and the holiday shopping season, while we also fund the events for the day!
We are inviting businesses to host Downtown Give-Back events during the First 5 Days of November (1st-5th.)  The goal is to build excitement and to raise funds to provide a great Holiday on Main experience which will be held during Small Business Saturday on Saturday, 11/26. 
We also hope to build community spirit by bringing customers and friends downtown to shop, eat, and be a part of supporting downtown Manchester!
If your business would like to participate, let us know right away!!!
Ideas might include:  
* Hosting a Class or Event and giving a % to Holiday on Main
* Offering a special menu item and a % of proceeds for that item go to Holiday on Main
* Special Holiday on Main hours where a % of sales during that time goes to Holiday on Main
* Insert your great idea here!
* A Holiday on Main Tip Jar
How the funds will be used:
* Supplies for crafts and children's activities
* Special Guests (Santa, Elves, Reindeer & more!)
* Give-Aways / Candy Canes & More
* Postage for Letters to the North Pole
* Prizes for our Shopping Challenges
* Advertising & Promotional Activities
* Holiday Shopping Season ads and business support