Sponsor Highlight: The Firestone | Art Studio & Cafe
---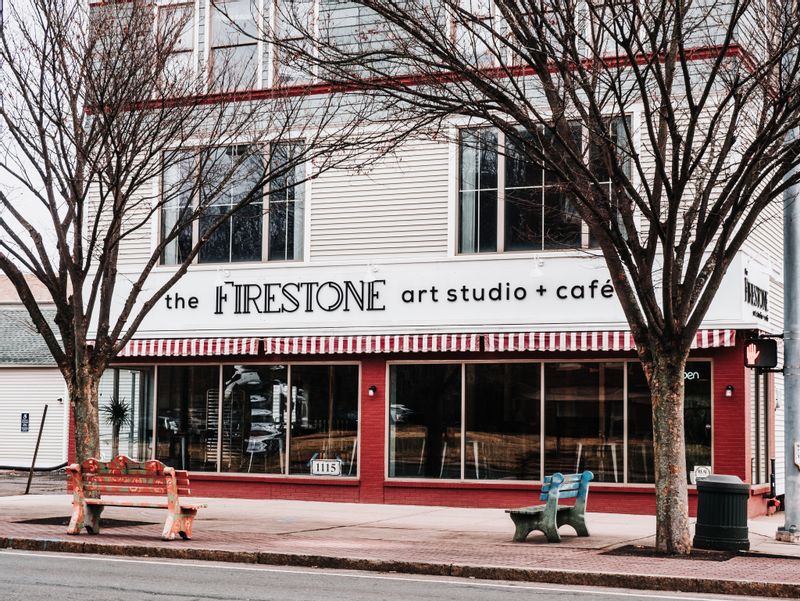 The Firestone Art Studio + Cafe aims to ignite the power of creativity in the local community.
The Firestone filled a long-desired niche in Downtown Manchester - an art studio where anyone can create!
The Firestone offers a comfortable atmosphere where you can enjoy coffee with friends, or work solo. You can drop-in to paint your own pottery or sign up for one of the many classes and events that are held.
Downtown Manchester is thankful to have Firestone as an active member of our community. The Firestone has sponsored many events over the past two years and is currently a Banner Sponsor as well as a 2nd Saturdays sponsor for 2022. In addition to generous sponsorship, artists from
Be honest - was the giant orange butterfly your profile pic last summer? Artists from The Firestone created that masterpiece! Did you see the beautiful winter-themed window paintings lining Main Street this winter? Firestone artists traveled up Main Street and painted decorations on windows, at no charge to the businesses. This is the type of community partnership that makes Downtown Manchester such a great place to eat, shop -and own a business!
Like to shop? The Firestone | Art Studio & Cafe brought us to The Market at 1115 Main! In an effort to support local artisan entrepreneurs, The Firestone created a special pop-up market. We are excited that this summer. The Market will be on Main Street on the 2nd Saturday AND Sunday of every month!