Galleries @ WORK_SPACE Upcoming Events & Art Exhibits (with art submission dates)
---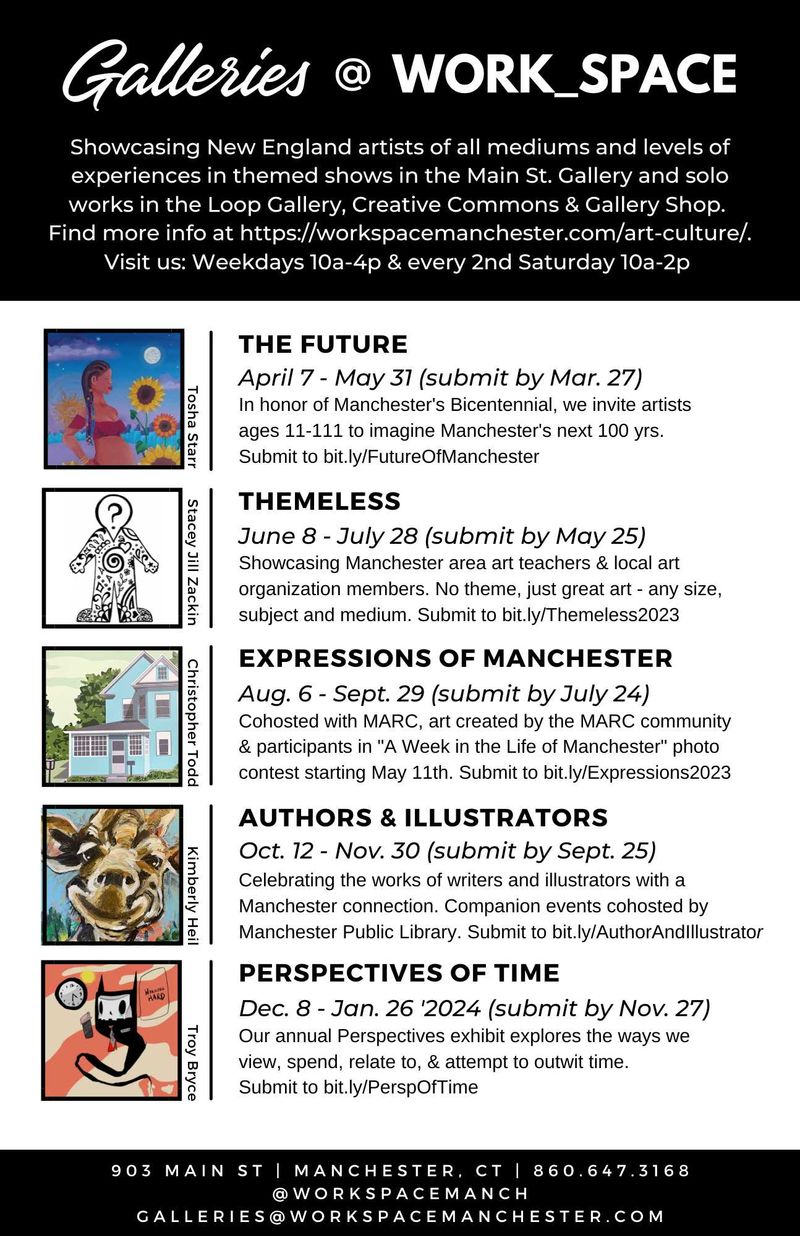 The Galleries @ WORK_SPACE is a welcoming and stimulating place for artists to showcase and sell their work and a space for those who work, live and visit Manchester to view a diverse array of locally made art representing numerous cultures, perspectives and creative mediums. Our regular public hours are weekdays 10a-4p and every 2nd Saturday 10a-2p. We also have a calendar of programs including community conversations, live performances, and art classes. Coming up in April we have a SmartPhone Photo Class and an Evening of Magic. Please review the schedule below and/or visit our website http://bit.ly/wsEVENTS or follow us on social media @workspacemanch to stay current with our programs, calls to artists and meeting, event & recording space rentals.
2023 EVENTS & PROGRAMS
Sat. April 8 (10am-2pm) – 2ND SATURDAY OPEN HOUSE
WORK_SPACE's monthly Open House where visitors can view the art in all 3 of our Galleries, peruse our Gallery Shop and tour our coworking & meeting spaces. There will also be live music provided by Imagine Main St. and a free art-creation station where you can paint a butterfly to be displayed on Main Street during the May 11th Downtown Butterfly Stroll.
Tues. April 11 (5:30-8:30pm – SMART PHONE PHOTOGRAPHY BASICS WORKSHOPS
Smartphone camera quality is improving constantly and rapidly however, there is a lot more that you can do to get amazing stand-out photos then just point and click. In this 3 hr workshop, photographer Peter Glass teaches how to produce high-quality shots - moving away from Auto Mode to manually take control of camera settings, lighting, positioning, accessories and editing techniques using the apps that come with your phone as well as others you can download. $25 (2-for-1 special, register for you, bring a friend for free.) WORK_SPACE members receive $5 off. RSVP required: https://bit.ly/SmartPhonePhotoApril.
Sat. April 22 (7-8:30pm) – THE FUTURE OF MAGIC
Be dazzled by live magic in our Main Street Gallery as Manchester resident and winner of CT's Got Talent 2019 Kody Hildebrand puts a new twist on traditional magic. A regular in Las Vegas with over 700,000 followers on social media, Kody doesn't use special effects and relies on his talent, humor, and some technically proficient tricks to entertain. Ages: 18 years and older. Cost: $24 per ticket (WORK_SPACE members get $5 off) RSVP: https://bit.ly/FutureOfMagic
Thurs. May 11 (6:30-8PM) – A WEEK IN THE LIFE OF MANCHESTER PHOTO WORKSHOP
We invite members of the Manchester Community to take pictures within city-limits during a 7-day period. The program will start with participants choosing 1 of 3 ninety-minute workshops to be held at WORK_SPACE. Each class will be led by a professional photographer who will provide some technical tips in their area of expertise, Landscape/Nature, Portrait, Special Effect photography. Participants will have a week to go around Manchester taking pictures and then submitting three of their best online. A panel of community members will select their favorites in a few different categories based on themes, techniques, and age groups of the photographer. Twenty-three (as in 2023) will be selected to be professionally printed and included in a photo exhibit in the Galleries @ WORK_SPACE. This program is free and light refreshments will be served. RSVP link available at: https://workspacemanchester.com/events-programs/
Sat. May 13 (10am-4pm) – 2nd SATURDAY OPEN HOUSE & TROLLEY AROUND DOWNTOWN
During this expanded 2nd Saturday Open House, we have arranged for an open-air trolley to transport visitors between the 3-venues hosting the PAST-PRESENT-FUTURE exhibits. Singers from Imagine Main St. & the CT Songwriter's Association will provide music as people get on & off the trolley at the various stops throughout the Downtown area. While at WORK_SPACE you can see the art in all 3 of our Galleries, peruse our Gallery Shop, tour our coworking & meeting space, pose at our Photo-Op Station and visit our Digital Story Studio. Free, No RSVP required.
ABOUT THE GALLERIES
Owned and operated by the Town of Manchester, the Galleries @ WORK_SPACE include the Main Street Gallery, Loop Gallery, Creative Commons and Gallery Shop. We believe that art is a tool for social change. Please join us to: explore & celebrate diversity, promote & foster inclusion, showcase & inspire creativity, provoke & challenge thought, and appreciate & expand perspectives.
2023 EXHIBITS & CALLS TO ARTISTS
Submission links for each upcoming show can be found below and via: https://workspacemanchester.com/art-culture/
THE FUTURE (April 7 - May 31)
Submit by: March 27th - bit.ly/FutureOfManchester
We welcome New England artists ages 11-111 years to submit work in any medium that projects what life could be like in the next century. Companion exhibits at Manchester Historical Society (THE PAST) & Lutz Children's Museum (THE PRESENT)
THEMELESS (June 8 - July 28)
Submit by: May 25th - bit.ly/Themeless2023
All Manchester Art teachers & members of Manchester Art Organizations are invited to submit 1 or 2 pieces of work of any size, subject & medium to be part of a collective art exhibit. There is no theme...just great art.
EXPRESSIONS OF MANCHESTER (Aug. 6 - Sept. 29)
Submit by: July 24th - bit.ly/Expressions2023
MARC and WORK_SPACE cohost an exhibit that consists of art created by the MARC community and participants of "A Week in the Life of Manchester, CT" photography contest May 11-May 17.
AUTHORS & ILLUSTRATORS (Oct. 12 - Nov. 30)
Submit by: Sept 25th - bit.ly/AuthorAndIllustrator
WORK_SPACE and the Manchester Public Library partner to celebrate the Bicentennial by showcasing writings and art from work whose authors and/or illustrators have a connection to Manchester.
PERSPECTIVES OF TIME (Dec.8 - Jan. 26, 2024)
Submit by: Nov. 27th - bit.ly/PerspOfTime
Our annual Perspectives exhibit explores the way we view, spend, relate to and attempt to outwit time.
BLANK CANVAS '24: UNBOXED (Feb/March 2024)
An exhibit of art created from upcycled, recycled & repurposed packing materials.
LOOP GALLERY & CREATIVE COMMONS (Rotating Exhibits Year Round)
We invite New England artists to display their work for sale around our multiple art and meeting spaces. Membership required, and Gallery Memberships start at $36 per year. Submit via: https://bit.ly/WSartsub

Originally posted by WORK_SPACE via Locable