What's Up at the Manchester Mall?
---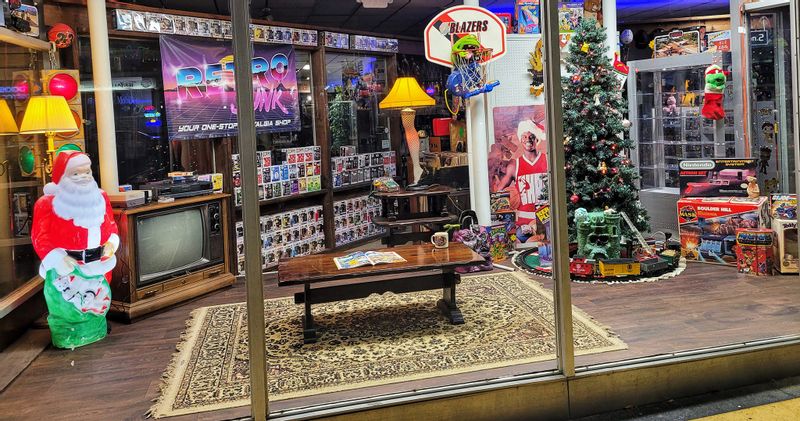 What is going on with the Manchester Mall at 811 Main Street? Where are the stores going? If you've found yourself asking that question, it's a good thing!

The past 3 years have seen dramatic changes in the Manchester Mall, long known for antiques and collectibles. The excitement started in 2019 when Urban Lodge Brewing Co. took over the lower level, transforming the once night-club into a modern brewery, complete with a welcoming outdoor patio!
While the construction finished up and the crowds began gathering, change was happening upstairs as well. In October of 2019 Brandon Farr brought his dream to life and opened Retro Junk in one of the front spots in the mall. Soon after, Brandon began recruiting friends to join him. The mall revitalization had begun! Great shops such as Frog & Fable Antiques were joined by Woof Works, Sweet Pea Antiques, and later Downtown Roots, Natural Selection Vintage, Window Box Farm, and more. Over the past few years, a few other businesses have come and gone from the mall, leaving some to wonder – What IS going on at that mall?
The Manchester Mall has taken on a special and much-needed role in Downtown Manchester. The Mall functions as a safe place for new entrepreneurs to take the first step and test out their business. This space allows new businesses to grow, or sometimes to fail. The low risk environment is just what is needed to allow entrepreneurs to take the leap and try! This turnover isn't bad, in fact it provides the community with unique shops with ever changing inventory. The Manchester Mall has also launched several start-up businesses that have outgrown their space and taken on more permanent locations nearby!
This fall Window Box Farm officially outgrew their space in the mall. The Farm Store closed and reopened a block down Main Street as Perennial! Be sure to stop by and check out the new welcoming and adorable shop! Perennial features found, foraged and grown products including their signature dried flowers and herbs. The new shop has expanded inventory to include additional products that are earth positive and natural!
Most recently, Retro Junk has announced an upcoming move! Last Christmas Brandon moved his shop across the hall to a much larger room. However, thanks to the amazing support of his customers, Brandon has outgrown this space as well. Retro Junk is on the move again!
In February Retro Junk and Natural Selection Vintage will be relocating, but they aren't going far! They are moving one block north on Main Street to the location that housed Ruff Cuts. We can't wait to see the amazing floor and window displays that will be coming soon! Mark your calendars and plan to shop for vintage collectibles, toys and clothing at the new location this spring.
The spaces at The Manchester Mall at 811 Main Street won't be empty long. Prepare for another shift as a few successful businesses transition to larger spaces. Frog & Fable Antiques as well as Downtown Roots will both be moving to larger spaces for the second time this year! The Cave has recently been joined by Sunshine Jewelry and expanded to the largest space in the back of the mall. Tia the Hair Queen isn't switching spaces -but the beautiful touches she brought to her space makes it feel brand new!
The newest businesses in the mall also include Ciao Furnishings, and Sports & Cards. Be sure to watch for announcements of new businesses that are coming soon!
So, the next time you are downtown, stop by the Manchester Mall at 811 Main Street to see what's new! The frequent turnover means that there are often new stores to explore. Your support means these businesses can grow and expand, and one day be ready to launch out to new locations. While you're downtown be sure to visit Perennial, Retro Junk and Natural Selection at their new locations!