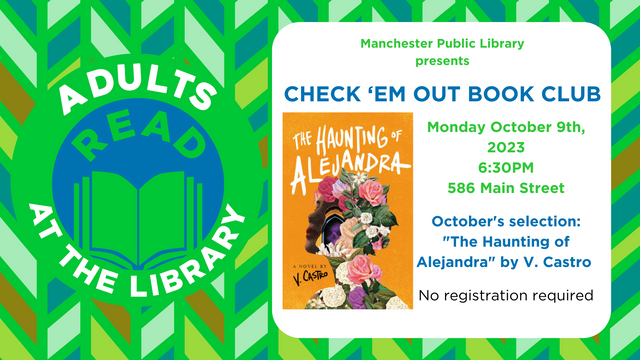 Description
The Check 'Em Out Book Club will have its October meeting on Monday October 9th, 2023 at 6:30PM to discuss "The Haunting of Alejandra" by V. Castro. Copies of the book are available at both library buildings for check out. No registration is required for this free program for adults.
About the book, from
www.goodreads.com:
A woman is haunted by the Mexican folk demon La Llorona as she unravels the dark secrets of her family history in this ravishing and provocative horror novel.
Alejandra no longer knows who she is. To her husband, she is a wife, and to her children, a mother. To her own adoptive mother, she is a daughter. But they cannot see who Alejandra has become: a woman struggling with a darkness that threatens to consume her.
Nor can they see what Alejandra sees. In times of despair, a ghostly vision appears to her, the apparition of a crying woman in a ragged white gown.
When Alejandra visits a therapist, she begins exploring her family's history, starting with the biological mother she never knew. As she goes deeper into the lives of the women in her family, she learns that heartbreak and tragedy are not the only things she has in common with her ancestors.
Because the crying woman was with them, too. She is La Llorona, the vengeful and murderous mother of Mexican legend. And she will not leave until Alejandra follows her mother, her grandmother, and all the women who came before her into the darkness.
But Alejandra has inherited more than just pain. She has inherited the strength and the courage of her foremothers—and she will have to summon everything they have given her to banish La Llorona forever.
Manchester Public Library
586 Main Street, Manchester, CT 06040
6:30 PM EDT
to 7:30 PM EDT
Originally posted by Manchester Public Library via Locable