Call to Scarecrow Creators! Register Now!
---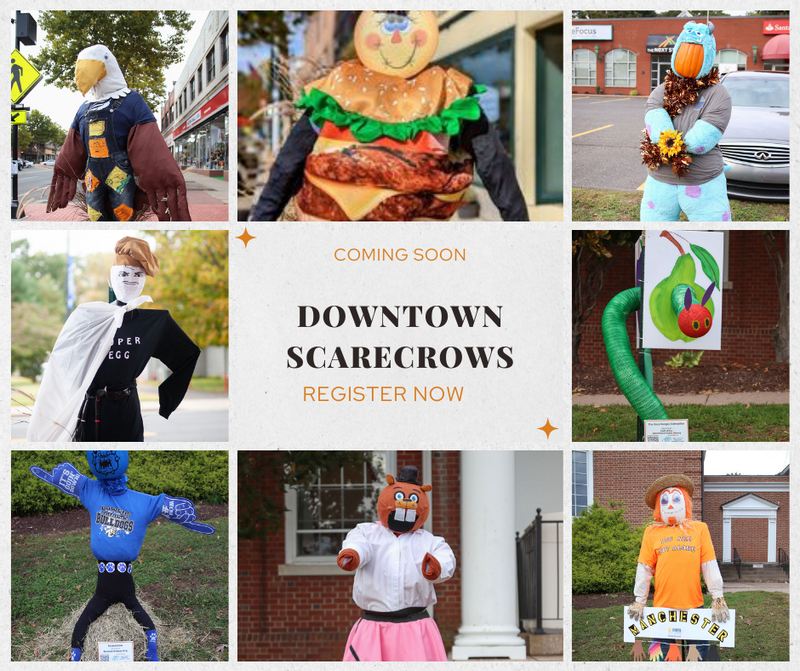 Scarecrows are coming to Downtown Manchester this October! (REGISTER HERE)
(View our current list of Scarecrow participants here!)
This year's theme is Manchester: Dream for the Future! Participation in the theme is optional but encouraged.
Everyone is invited to create a scarecrow to be displayed on Downtown Main Street - individuals, artists, families, friend groups, businesses, clubs, schools - you!
We can't wait to see Main Street lined with scarecrows this October!

The Top 3 individuals/families in each category below will win a gift card ($50,$25,$25)to a downtown business! Businesses, nonprofits & other organizations win bragging rights for the next year!
Categories:
Fan Picks - Selected by paper ballots cast at voting stations downtown!
Facebook Favorites - Most votes on our Facebook page!
Best in Theme - Selected by a panel of judges
Early Registration Drawing:
All registrations (businesses, too!) received by 8/23 will be entered to win a paint-your-own Manchester pumpkin! Paint the pumpkin for free at The Firestone | Art Studio & Cafe!
Dates:

8/23: Early Registration Deadline - Enter to Win!
9/18: FINAL day to register & submit your scarecrow name for the signs/maps.
10/4-10/7 UPDATED Installation Dates
10/29-11/1 Removal Dates
CLICK HERE to read more about the Scarecrows!


Many thanks to this year's fall sponsor, All Ways There Home-Care, LLC!