Spruce Street Farmer's Market
Just a block away from Downtown Manchester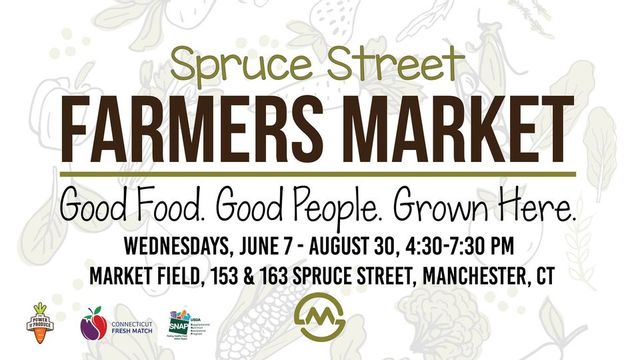 Description
Wednesdays are for shopping, local produce, and family fun. The Spruce Street Farmers Market is just a block away from Downtown Manchester. Stop by for local produce, locally created products and more. Stop by a Downtown Manchester restaurant for dinner, or a cool dessert or chilled beer before or after shopping at the market!
The Spruce Street Farmers Market will run on Wednesdays, Starting June 7th from 4:30 PM-7:30 PM at Market Field, 163 Spruce Street.
See the weekly lineup at www.facebook.com/sprucestreetmarketct
Free parking at 160 Spruce Street (the Nathan Hale lot).
Downtown Manchester Special Services District
903 Main Street, Manchester, CT 06040
4:30 PM EDT
to 7:30 PM EDT