Holiday on Main 2022: Sales, Prizes, Santa & More!
---
Join us on Shop Small Saturday, 11/26, for shopping, fun and more!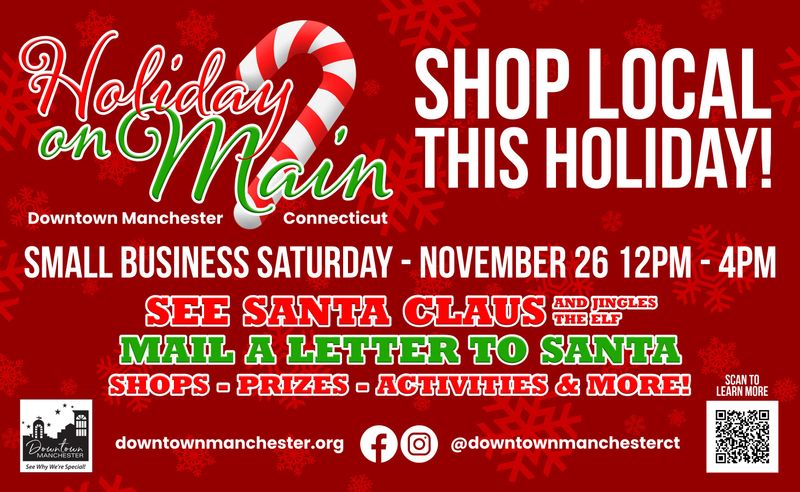 Downtown Winter Wonderland
Downtown Information, Maps & Game Boards
Visit us Outside WORK_SPACE from 12pm to 2pm to pick up a map and shopping challenge game board!
Jingles, Santa's Favorite Elf

All Ways There Home-Care, LLC will be hosting Jingles - Santa's Elf at Anne Miller Real Estate! Stop by to take a photo with Jingles and create an ornament!  Jingles will be there from 12pm-1:30pm and then be back at 3pm -4pm!
Holiday Parade at 2pm 
Our Holiday Parade will depart from WORK_SPACE at 2pm! You are welcome to join Santa, Jingles the Elf, Chuckles of the Lutz Children's Museum, and Nutcracker Dancers from Connecticut Concert Ballet for our parade! 
We will be caroling our way down Main Street to The Firestone | Art Studio & Cafe.  Join us to meet Santa, Jingles & Chuckles and take photos together!
Shop 'til You Drop
Holiday Market at The Firestone
Get your gifts at the Market at 1115 Main's final outdoor market of the season! The market will be open from 11-3.
Gallery Shop & Guest Vendors at WORK_SPACE
Visit WORK_SPACE to shop for unique gifts at the Gallery Shop from 12-4. Several artists and vendors will be there with additional items for sale!
Creative Notions Merchandise Sale
30% Off Select Merchandise
Holiday Specials at The Manchester Mall at 811 Main

Retro Junk - For every $50 gift card get $10 free
Frog and Fable - 25% off qualifying purchases
Downtown Roots- Free gift with each plant purchase
Natural Selection - Buy one t shirt get one 50% off
Cia Furnishings - GRAND OPENING- 15% off furniture
Sports & Cards - 10% off slabs under $200
Sunshine Jewelry GRAND OPENING $10 off every $50
Perennial
Special Edition Holiday Tea Blend!
Urban Lodge Brewing
Special Edition Holiday Cocktail!
Silk City Coffee
Discount on Gift Cards!
Little Bird Clay Co.
Stop by to shop at the Creative Coop inside the studio! Take Advantage of 10% off classes when you register during Holiday on Main.
Holiday Fun at Downtown Businesses
North Pole Post Offices
Visit one of these North Pole Post Offices to mail a letter to Santa! Letters mailed during our Holiday on Main will receive a return letter!
Locations:
Silk City Coffee
Life Family Chiropractic
Holiday Craft
Stop by Life Family Chiropractic from 12-4 to complete a fun holiday craft!
Ornament Craft
Stop by ML Fitness between 11am and 2pm to create a special ornament! This craft combines Holiday Wishes & New Year's Resolutions for children and adults!
Story Time & Book Drive
Drop off your gently used children's books to Creative Notions!
1pm Storytime with Chuckles of the Lutz Museum
1:30pm Storytime with Santa!
Caroling with CAST

Stop by The Angry Egg for some holiday caroling fun! Members of CAST children's theatre will be performing - feel free to sing along!
Holiday Craft at the Mall
Stop by The Manchester Mall at 811 Main to pick up a DIY Craft while supplies last.
Face Painting & Temporary Tattoos
Stop By Silk City Coffee from 11am to 12pm to grab a hot drink and enjoy face painting and temporary tattoos before the main fun begins!
Be sure to chek out their 2022 Holiday Giving Tree to learn how you can support local youth this Christmas.
Wheel Demo
Have you ever wanted an upclose look at how the pottery wheel works? Stop by to watch artist Jamie demonstrate during the Wheel Demo at 1pm.
The Details
What else is happening?
We expect more holiday fun to be scheduled as we get closer to the event. Be sure to come back and check this article for updates! You can also follow us on Facebook and Instagram for updates and reminders!
Where will I park?
There are plenty of parking spaces in our large public parking lots! You can access these lots from Bissel, Birch, Oak and Maple Street! Parking is FREE all day during Holiday on Main. No need to start a parking session!
Where should I start?
That is up to you!
Stop by our Winter Wonderland in the Forest St. Lot to pick up a schedule for the day and your Holiday Shopping Game Board!
How much does it cost?
Many of the activities being provided are free! Some activities hosted by businesses may have a charge. Be sure to read the details or ask!
Santa & Friends
Be on the lookout for Santa and his friends! 
Jingles, Santa's Favorite Elf will be greeting friends and creating ornaments at Anne Miller Real Estate from 12-1:30 and 3-4!
Chuckles of LUTZ Children's Museum will be leading a Story Time at Creative Notions at 1pm! 
Beginning at 1pm Santa will be surprising Downtown Businesses with a guest appearance! At 1:30pm Santa will be leading a Story Time at Creative Notions!
Everyone is invited to join us for our Holiday Parade and our visit to The Firestone!
Santa and Friends will be departing from WORK_SPACE at 2pm. We'll be carolign our way down the street (on the sidewalk) to The Firestone where we will watch the MHS WInterguard perform. After the performance you will have a chance to meet and take photos with Santa and all his friends!